Latest Release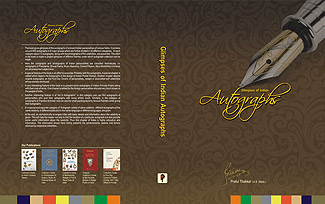 Please click on image to know more.

Praful K. Thakkar, I.A.S. (Retd.) was with the Government of Gujarat, India for more than 30 years and has retired as the Secretary to the Government of Gujarat. He has been an ardent collector and hobbyist of autographs for more than 50 years. For him 'Hobby is for Health & Hobby is for Happiness'.
To give thematic dimension to the hobby of Autograph collection, he started with a unique website www.indianautographs.com which represents a thematic Gallery of Indian/World Autographs. This site of World Autograph Gallery is a part of the above mentioned site and presents a galaxy of Autographs of World Celebrities in a very systematic and thematic way. In this gallery, one can find the autographs and photographs of more than 120 world Nobel Laureates, 250 world TV/Film personalities, 150 world sport personalities, 175 world cricket players, 360 world political celebrities and many more personalities.
With reverence, respect and gratitude, autographs of World Celebrities, who have made landmark in their respective fields of politics, art, science, technology, music, sports, literature, TV/films, business, fashion, service etc. are presented here. This Website is a humble effort to salute the honorable achievements of these celebrities.